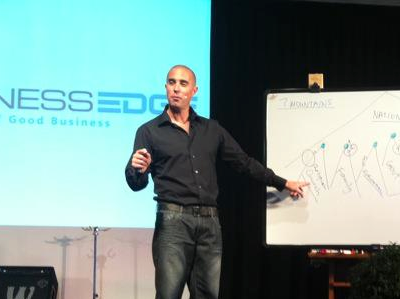 Is Phil boring?  Not likely!  He has been captivating audiences for decades with messages of personal truth that empower and equip listeners.
A gifted teacher, Phil can take the complicated and make it simple to understand easy to apply.  A natural story teller, Phil draws you into his experiences to bring meaning and relevance to his message.  An open book, Phil's honesty will create trust in almost any environment making even the hardest message reach its target.
Because of his willingness to "give things a go" Phil Strong has collected a range of experience well beyond his years.  This means he can speak, inspire and teach on a wide range of subjects from personal mastery, sales and business success, money, property, family and values based living.  Does this make him a shallow pond?  Not at all.  Phil Strong is "high impact and will not disappoint."
If you're needing a speaker for your group that can relate to a wide audience, speak with power and conviction or inspire them and compel them to action then look no further!  Speak with Phil and share the goals you seek to achieve  through your conference or event.  Phil will help you to develop a solution that will have a high impact on your audience.